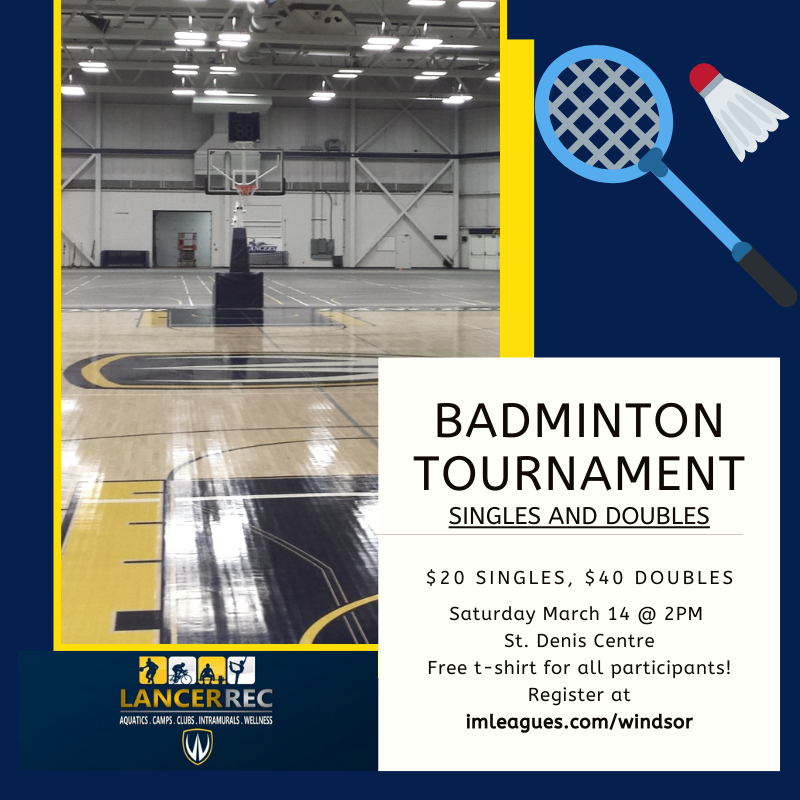 This is an "open" tournament for males and females. We are accepting high school students, students from the University of Windsor, students from St.Clair College and the general public.
We will be accepting singles and doubles teams. The badminton tournament will be taking place on Saturday, March 14, 2020.  All matches will be played on the Mondo Courts in the St. Denis Fieldhouse from 2pm – 9pm. 
The registration fee for singles is $20, and $40 for a doubles team. All participants will receive a free t-shirt.
The deadline for registration is March 13, 2020, at noon. You can register at imleagues.com/windsor, selecting Create a Team. 
Once registered, please pay the registration fee at the front desk in the St. Denis Centre before the tournament begins (otherwise you will not be permitted to play).
If you have any questions about the tournament, please message the Intramural Coordinator Giulia Barile (barileg@uwindsor.ca) or the Tournaments Sport Manager Sabrina Binjamin (binjami@uwindsor.ca).