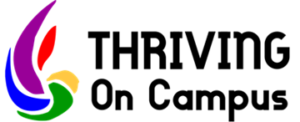 You are invited to participate in a webinar to learn about an upcoming province-wide study for LGBTQ2S+ university students in Ontario.
Check out a short video about the webinars here

The Study: "Thriving on Campus? LGBTQ2S+ Campus Climate at Ontario Universities" is a 4-year study that will promote understanding of the experiences, wellbeing, and academic development of diverse LGBTQ2S+ university students throughout Ontario. The study is the first of its kind in Canada! It will start with an online survey that will take place Winter 2019, followed by personal interviews that will be conducted Fall 2019. Visit our Webpage for more information about the study.
Information Webinars: We are holding information sessions so that interested stakeholders on and off campuses can learn more about the study. We'll talk about the study's goals and research activities, why it's needed, what we hope to do with the results, and ways stakeholders can support the study.
We're offering sessions specifically for students and others open to interested staff and faculty, as well as students and representatives of interested community organizations.
Various dates are available
Sessions will be no longer than 60 minutes and will include a Q&A
Monday, November 12, 3:00 – 4:00 session offered in French / Séance du lundi 12 novembre 15h-16h offerte en français.

If you are interested and available, please select to a date and time on the Google Form. You can select up to two options.
If you questions, please contact Michael Woodford (mwoodford@wlu.ca)