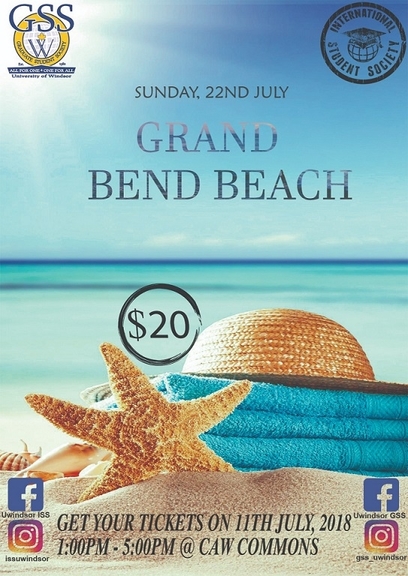 Hey Grad Students,
Your very own, Graduate Student Society (GSS) & International Student Society (ISS), are organizing first one-day trip to Grand Bend Beach.
Date: Sunday, July 22nd
Time: Depart Windsor @ 11 AM
         Depart Grand Bend at 8 PM
Come get your tickets in the CAW Commons on July 11 from 1pm to 5pm. It is a first come first serve basis. Make sure you bring your student ID, the signed waiver form (Attached below), along with the $20 cash to purchase the ticket. The $20 covers transportation and refreshments only.
You are NOT allowed to purchase tickets for your friends so please come get your tickets before we sell out. It's a trip filled with fun activities for students and a great experience for new, incoming international students.
Have a good day and we hope to see you on July 11 from 1 to 5pm in the CAW Commons.