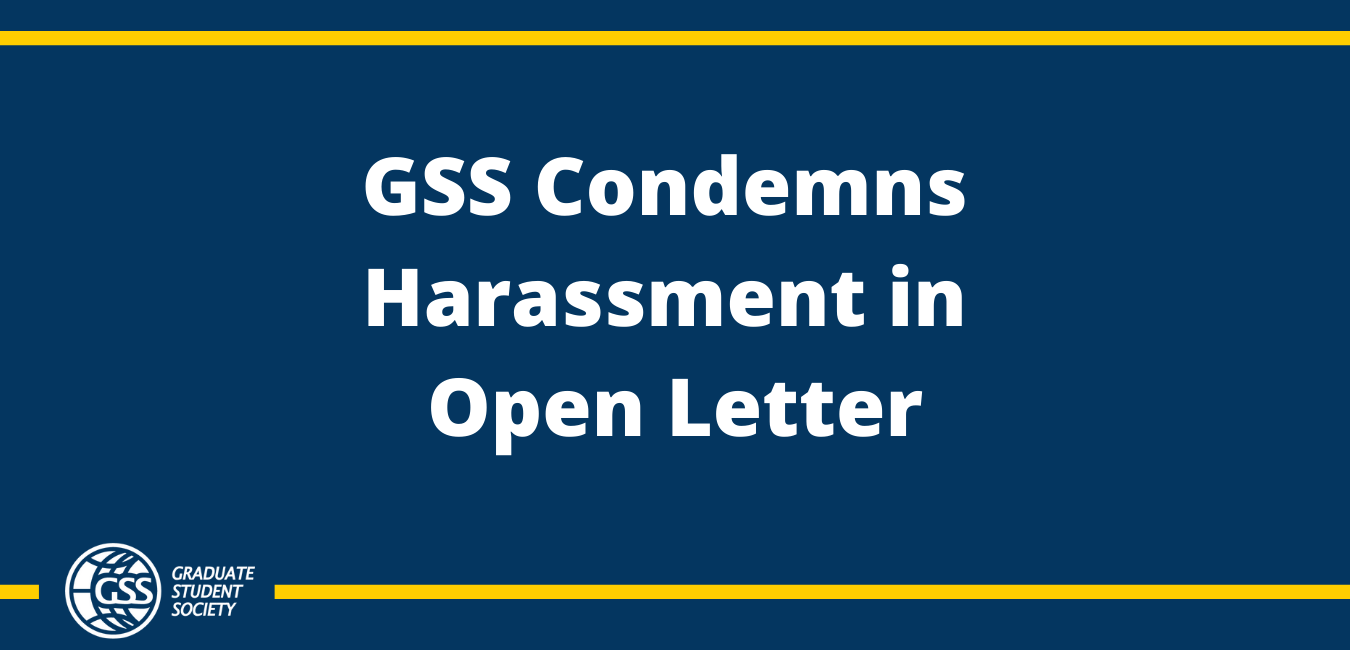 Dear Students:
Due to recent events involving online harassment and discrimination toward a GSS member. The GSS President and Council have penned an open letter condemning these disrespectful and hurtful actions.
The Graduate Student Society (GSS) condemns any form of discrimination against its members, the campus community and beyond. We will not tolerate this kind of behaviour in any space, small or large, whether physical or virtually. 
The GSS is committed to seeing our family, in its entirety, treated fairly without concern to religion, race, colour, national origin, sex, sexual orientation, disability or age. 
As an organization, we exist to advocate on the behalf of our membership and to allow our members to have a positive and well-rounded student experience. To see this to fruition, we will continue to advocate for students experiencing any form of harassment or discrimination.
If you or your peers are experiencing any hardships because of the reasons above, we encourage you to reach out to advocate@uwindsorgss.ca or president@uwindsorgss.ca.
If you experience any form of abuse online, please visit UWindsor's Social Media Policy for tips on how to report on each platform.
Additionally, we understand the intense stress our members experience for a multitude of reasons, related to discrimination or not, we would like to remind you the University of Windsor has supports in place to assist you. Please visit the Student Counselling Centre for a list of resources. 
Please note: 
The Student Counselling Centre is following the University of Windsor's Emergency Academic Plan and is now closed to all in-person appointments, effective March 18th. Please see below for the change in service offerings:
If you wish to make an appointment, they are working remotely by offering telephone and/or video conferencing.  Please email 

scc@uwindsor.ca

 and we will contact you back within 24-48 hours. 

If you need to speak with someone immediately please contact MySSP at 1-844-451-9700 or 

download the 'MySSP' app

 for 24/7 talk or text counselling by licenced counsellors in multiple languages.

If your or someone else's life is at risk, please call 911 for emergency services.
GSS President
Sathish Pichika