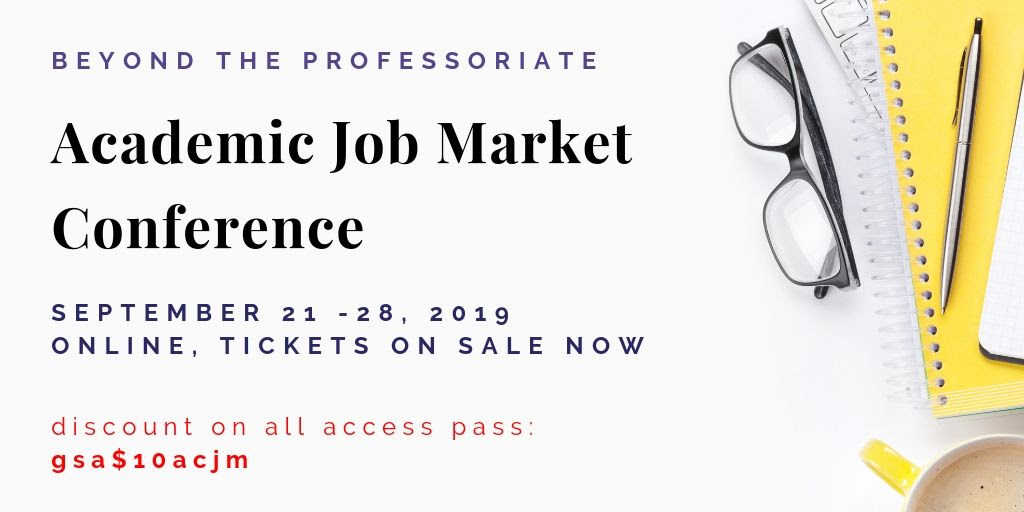 Online Career Conference for the Academic Job Market.
Beyond the Professoriate is hosting its 1st Online Career Conference for the Academic Job Market, September 21st- 28th, 2019. The conference will help prepare graduate students and postdocs who are applying for faculty (tenure track) positions. The conference is for graduate students in STEM, Humanities, and the Social Sciences.
With 13 hours of instruction, this conference will help you learn about faculty careers and what to do to prepare for the academic job market. You'll leave feeling more confident and prepared to face the competitive academic job market.
What to expect: One-hour seminars, led by 21 PhD experts, will help you decide when to go on the jobmarket, learn how to develop your CV and cover letter, and strategies for writing research, teaching, and diversity statements. Discover what it's really like to work at (and how to tailor your application to) a research-focused, comprehensive, or teaching-focused institution by attending career panels featuring tenured and tenure-track faculty.
Register for this one-of-a-kind event: https://go.shitrk.com/r/e/x2J4VSeljjMIK5NJ?r=https://beyondprof.com/conference/
Location: Online! Attend the conference via Zoom webinar. No need to travel.
Attend Live: Sept 21 & 28, 2019 starting at 11 a.m. ET both days. Additional evening seminars held Sept 23-26th at 8 p.m. ET
Video Replay: Available to stream on demand starting Oct 1st. See ticket details for more information.
Price: Ticket prices begin at $39 US (Live Only) to $79 for All Access.
Special Discount: Use code gsa$10acjm for $10 off the All Access Pass.
See the Program & Register Today: beyondprof.com/conference
With your ticket, you can attend the conference live and ask questions of our speakers and panelists. The conference proceedings will be recorded and available to ticket-holders to watch during the replay period (check ticket details for more information).
The conference is hosted and organized by Beyond the Professoriate, an organization founded and led by PhDs to provide career advice by PhDs, for PhDs. We empower graduate students and PhDs to build impactful careers and engaged lives, wherever smart people are needed – in academia and beyond.